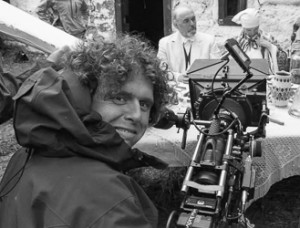 Lukáš Hyksa se narodil v roce 1980 v Čáslavi. V roce 2011 absolvoval katedru kamery na pražské FAMU. Tomu předcházel šestiletý pobyt ve Francii, kde během studií na pařížské Université de Saint-Denis, sbíral zkušenosti u filmu jako asistent kamery, osvětlovač a grip, ale také jako fotograf a produkční u nového cirkusu. Film Bába, který natočil s režisérkou Zuzanou Špidlovou, získal v roce 2009 na festivalu v Cannes první cenu za nejlepší studentský snímek. Od té doby spolupracoval na řadě hraných i dokumentárních filmů a reklamních spotů, zejména v Čechách a ve Francii. Klip k písni Tráva Anety Langerové, který natočil společně s režisérkou Olgou Špátovou, obdržel cenu Anděl za nejlepší klip roku 2014. V současné době pracuje na dokončení celovečerního filmu 8hlav šílenství . Od roku 2012 je členem AČK – Asociace českých kameramanů.
Kontakt: hyksalukas@gmail.com +420608826347
Lukáš Hyksa was born in 1980 in Čáslav in Czech Republic. In 2011 he graduated from the Cinematography Department at the Film and Television School of the Academy of Performing Arts in Prague. Before his studies there, he spent six years in France, where as a student at the Université de Saint-Denis in Paris, he gathered experience in film as a camera assistant, a lighting technician, and a grip, and also as a photographer and producer for Cirque Nouveau. The film Bába, which he made with the director Zuzana Špidlová, won first prize for the best student film at the 2009 Cannes Festival. Since then, he has collaborated on a number of feature films, documentaries, and advertising spots mainly in the Czech Republic and France. The music video for Aneta Langerová's song Tráva (Grass), which he filmed together with the director Olga Špátová, won the 2014 Anděl Award for Video of the Year. At present, he is working on completing the feature film 8 Heads of Madness. Since 2012 he is a membre of AČK – Asociation of Czech Cinematographers.
Contact: hyksalukas@gmail.com +420608826347
Lukáš Hyksa est né en 1980 à Čáslav en République Tchèque. En 2011 il a été diplômé à la FAMU à Prague. Ses études pragoises ont été précédées par un séjour de six ans en France où il a acquis se premières expériences en milieu du cinéma. Pendant ses études à l'Université Paris 8 il a travaillé sur des tournages comme assistant caméra,électro et machino, mais aussi comme photographe et assistant de production d'une compagnie de Cirque Nouveau. Le premier prix de la Cinéfondation au Festival de Cannes pour le film Bába en 2009, a donné la suite à une longue coopération avec la réalisatrice Zuzana Špidlová. Depuis il a travaillé sur des nombreux projets en Tchéquie ainsi qu'en France. Le clip Tráva de la chanteuse tchéque Aneta Langerová, réalisé par Olga Špátová a emporté le prix Anděl aux Victoires de la musique tchèque pour le meilleur clip de l'année 2014. Actuellement il travail sur la finalisation du long métrage 8 Hlav šílenství ( 8 têtes de la folie)
En 2012 Lukáš est devenu membre de l' AČK ( Association tchèques des directeur de la photographie cinématographique )
Contact: hyksalukas@gmail.com +420608826347